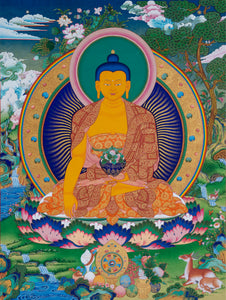 himalayanartmuseum
EXCLUSIVE LIMITED EDITIONS (Limited Edition Museum Quality Canvas Print of Buddha, signed by Master Locho)
Regular price
₹ 96,000.00
₹ 0.00
Unit price
per
Limited Edition Museum Quality Canvas Print of Buddha, signed by Master Locho
Buddha in Celestial Landscape 
Artist, Master Locho 2022 
Canvas Print, Pigment on Canvas, 30 x 22 inches 
In ancient India the title Buddha referred to an enlightened being who has fully awakened and achieved freedom from suffering. Buddhas have existed in the past and will exist in the future. Siddhartha Gautama, lived 547 lives as a Bodhisattva, before he became enlightened, a Buddha. There are 32 major marks and 80 minor marks all represented in this image of Buddha. 
The image of Buddha is a personification of attributes of love, kindness, compassion, generosity, wisdom and morality! 
Here Buddha Shakyamuni is shown in Bhumisparsha mudra (earth witnessing mudra) in a celestial landscape. The painting took two years to complete. 
The Artwork is signed by Master Locho as an expression of his gratitude. 
---