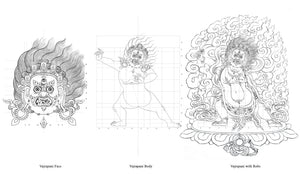 Himalayan Art Museum
Vajrapani Drawing Course
定價
₹ 30,000.00
₹ 0.00
單價
每
ABOUT VAJRAPANI

Vajrapani or 'the Great Black One' is a Hindu and Buddhist wrathful figure with the devastating appearance of Shiva. He is a Yi-dam, the guardian deity, and Dharmapala, or protector of the Dharma or Buddhist Law. Vajrapani has many different manifestations. The six-armed form of Vajrapani, believed to be a ferocious and influential form of Avalokiteśvara, is preferential in Tibetan Buddhism. In this manifestation, he is midnight blue in colour, and has three eyes. Each eye represents his wisdom of the past, present and future, and the three bodies of the Buddha. The crown of five skulls is representative of conversion of the five poisons: ignorance, jealousy, anger, desire, and pride, into the five insights.
Note: This is a digital product. Once purchased, you will be able to download the material. Any cancellation for this product is non-refundable & non-returnable.

Welcome to a spiritually elevating experience through drawing… 
You need the following materials to get started:

 lead pencils, eraser, divider/compass, ruler, drawing sheets, cutter to sharpen the tip of pencils and extra A4 printing papers in order to create paper scales.

You can use an A3 or an A4 sheet for printing the course materials as well as drawing.

Keep sharpening your pencils every 5 minutes.  

The images are highly spiritual and sacred. Please respect all course materials, tools and images at all times.

Please be aware that while drawing these divine images, the artist brings these images into this world to benefit the mankind. In this position the artist becomes the creator of the deities. An artist should remain humble, kind, compassionate, selfless and anonymous.

No names are ever written on the drawings. You can write date or serial number.

When we look upon these images, or meditate upon them or practice them or draw/paint them, we develop attributes possessed by each image. Attributes of generosity, morality, renunciation, wisdom, perseverance, patience, truthfulness, determination, love, kindness, compassion and equanimity. With practice we cultivate these attributes until one day we are filled with them. Then we become one with the deity.

Entire course material is original and created by Master Locho and Sarika Singh.

All course materials is a copyright of Center for Living Buddhist Art, Museum of Himalayan Arts and any reproduction, distribution, sharing is prohibited without the written permission from the center.
 We wish you a great experience. Enjoy the spiritual elevation!!!
---