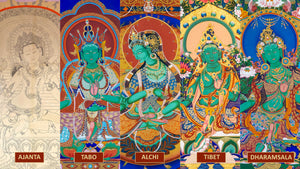 Himalayan Art Museum
[DOCUMENTARY FILM] Celestial Realms of Enlightened Beings (30 Days Access)
定價
₹ 4,000.00
₹ 0.00
單價
每
Allow us to take you on a 2300 years old journey of Traditional Buddhist Paintings. We showcase an exquisite collection of 45 Masterpiece Thangka Paintings, painted over a span of 25 years by world renowned Thangka Artists, Master Locho and Dr Sarika Singh. This sixty minute documentary film is sure to take you through the 'Celestial Realms of Enlightened Beings'.
Produced by Himalayan Art Museum ©2023
The film is open for Limited Access of 30 Days from the time of purchase.
You can access the film, in our MEMBERS AREA.
"Abducting the viewer into the Realm of Buddhist deities"
"Celestial Realms of Enlightened Beings" by the Himalayan Art Museum, Dharamsala, is more than a typical documentary. It is indeed a 60 minute meditation abducting the viewer into the realm of Buddhist deities. Its slow pace of narration and (beautiful) camera work lets one feel the deep concentration and contemplative mood necessary to create such masterpieces of thangka painting as master painters Master Locho and Dr. Sarika Singh have created them over a time-span of 25 years, which are now to be marveled at at the Himalayan Art Museum, Dharamsala. The various deities are presented one by one and their spiritual meanings explained in terms understandable also by the interested lay person. Stylistic traits and historical perspectives are also included in the narration in order to round up this comprehensive prayer of (slowly) moving images, that through their detailed pictorial settings, guide the viewer to the core of exquisite Buddhist thangka painting.
"Glimpse the Beyond"
Fully embodying an ancient culture steeped in Devotion, Sarika Devi, Master Locho and their crew explore a vision of Divinity so vibrant, any sincere audience cannot help but leave changed forever. These masterpieces bring wonder into a heavy heart and silence to all mental-chatter. Glimpse the beyond as the master's brush reveals the colors of our own Divine Buddha Nature.
Simple and Visually Stunning
This is an informative documentary explaining the connection between the intricate art form known as "Thangka" and Buddhism. Little is known about the "Thangka" form of art and its Buddhist origins and evolution. This documentary successfully takes the viewer through that journey…a journey across time (history) and countries (geography), with stunning visuals of the complex details of many "Thangkas!" The discipline, patience, and devotion of the artist in creating a Thangka is evident in the many exquisite Thangkas one sees in this film. I highly recommend watching this documentary.
---